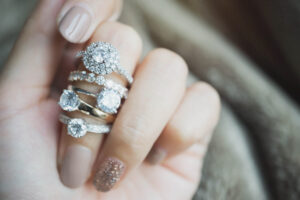 It is crucial that one understands how diamond pricing functions before diving into the subject of sales. Due to their scarcity and aesthetic appeal, diamonds with superior cut, a colorless look, high clarity, and a bigger carat weight attract higher prices. On the other hand, diamonds in these categories with lesser grades are generally more cheap. Market demand and business factors can also affect diamond pricing. Popular cuts like the round and princess cut frequently command a premium because of their enduring charm. Similarly, demand for particular diamond earring designs can be fueled by trends established by famous people or significant fashion influencers, which may have an effect on pricing.
Seasonal Sales And Promotions
Holiday Season Offers: The holiday season is a prime time for retailers to offer discounts and promotions on a wide range of products, including diamond earrings. From Black Friday to Christmas and New Year's sales, shoppers can often find attractive deals during this time of year. Retailers understand that the festive season prompts an increase in gift-giving, and offering discounts on diamond earrings can entice potential buyers to make a sparkling investment.
Clearance Sales And End-Of-Season Offers: Like any retail industry, jewelry stores also need to manage inventory and make room for new collections. Hence, clearance sales and end-of-season offers become common occurrences. While the selection may be limited during these sales, they present an excellent opportunity for bargain hunters to find diamond earrings at discounted prices.
Special Occasion Sales
Anniversary Sales: Many jewelry retailers host anniversary sales to commemorate the founding of their business. These events can feature exclusive discounts and promotions, making it an ideal time to search for diamond earrings at more affordable prices.
Valentine's Day Specials: Valentine's Day is synonymous with love and romance, and diamond earrings remain one of the most sought-after gifts. To cater to this demand, jewelry stores often roll out Valentine's Day specials, offering discounts on various designs, including heart-shaped and drop earrings.
Negotiating With Retailers
While sales events and promotions provide opportunities to save on diamond earrings, it is also essential to recognize that some retailers may be open to negotiation on regular-priced items. Depending on the store's policies and the diamond's characteristics, there may be room for discussion on the final price. Building a relationship with jewelers might be helpful. As a token of appreciation for their ongoing support, returning customers and devoted clients may be given special discounts and offers.