You've made the decision to explore engagement rings options and are researching all the different types. You want to make sure you're getting the best diamond ring for your significant other and you're in luck. This article will shed some light on the current trends in diamond rings to help make your shopping experience easier.
Current Trends In Diamond Engagement Rings
Let us look at some recent trends in engagement rings:
Pair a traditional round diamond with a complementing fancy-cut diamond. This creates a unique look that is both classic and contemporary.
Opt for a three-stone engagement ring, with a round diamond flanked by two smaller diamonds. This is a timeless look that makes for a beautiful piece of jewelry.
Many couples are choosing rose gold or yellow gold settings for their diamonds. These colors bring out the beauty of the stones and add a unique touch to the ring.
Stone Setting In Diamond Rings
Stone setting in diamond rings is an art that has been practiced for centuries. Today, the trend is towards more contemporary designs with modern materials and techniques. Let's look at the current trends:
Use of invisible settings,which hide the metal prongs that normally hold the stone in place, creating a more seamless design.
Use of bezel settings, which encircle the diamond with metal and can make the stone look larger.
Mixed metal settings are also becoming more popular, with contrasting shades of gold or silver used to create a unique look.
Tension settings are also gaining in popularity as they accentuate the shape and size of the diamonds.
Is It Safe To Buy A Diamond Engagement Ring Online?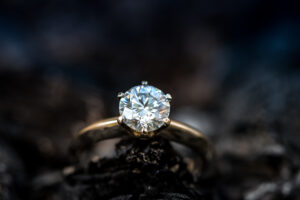 When it comes to buying a diamond engagement ring, many people are wary of buying online. After all, it's an important purchase and you want to be sure that you're getting the best possible quality. Fortunately, it is possible to buy diamond engagement rings online safely.
Before making a purchase, it is important to do your research and make sure that you are dealing with a reputable dealer.
Check to see if they are a member of a professional organization, such as the Jewelers of America or the Gemological Institute of America.
It's also important to make sure that the dealer offers a money-back guarantee and clear return policies, in case you are not satisfied with the diamond you receive.
Finally, be sure to read reviews from previous customers to get an idea of their experience.
With the right precautions, buying a diamond engagement ring online can be a safe and hassle-free experience.