When it comes to buying diamond jewelry, you cannot make a decision overnight. You have to involve in a lengthy discussion with your partner or family to make the right decision. Even after the introduction of lab-grown diamonds to the market, this process is still remaining a difficult one. Lab-grown diamonds, just like their natural counterparts, have great popularity these days. Millions of people today are preferring a lab-grown diamond for their engagement ring.
If you are planning on buying a lab-grown diamond for your engagement ring, you might need help if you are a beginner and do not know much about diamonds created in a lab. Keep on reading this article to find out the best ways to ensure that you are buying a perfect engagement ring.
Try To Learn About The 4Cs
When it comes to a lab-grown diamond or a natural diamond, you must be familiar with the 4Cs. You should note that 4Cs is the diamond's foundation. Cut, clarity, color, and carat weight, the 4Cs, determine the diamond's quality and have a significant impact on its price. If you're on a budget, choose a lower-grade diamond because the imperfections aren't apparent to the human eye.
Do Not Forget To Do Your Research
Doing proper research is an important component of any procedure, particularly when buying a diamond or, even more so, when buying a lab-grown diamond. You might begin by determining whether or not the diamond you're purchasing is a lab-grown. The majority of lab-grown diamonds can be purchased via online stores. You should note that there are websites that offer simulants as lab-grown diamonds; conduct your research and pick a reliable online diamond store. For the most part, lab-grown diamonds are real diamonds that are identical in shape, size, and color to natural diamonds; anything else is a fake diamond.
Look At The Grading Report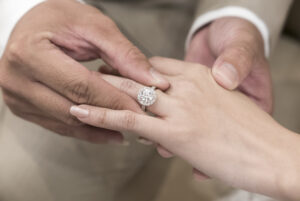 You may become enamored with the perks of lab-grown diamonds, but keep your cool and make sure the diamond you're buying complies with the lab-grown diamond grades. This is an essential factor in determining a diamond's quality. A verified grading certificate from a reputable lab, such as the EGL, IGI, or GIA, is required for your diamond.
Buy A Colored Lab-Grown Diamond
If you're someone who enjoys incorporating color into your jewelry, lab-grown diamonds are the way to go. They come in bright but subtle colors including yellow, blue, and pink. These colors will give your diamond ring some much-needed punch. Furthermore, fancy colored lab-grown diamonds are less expensive than colored natural diamonds.