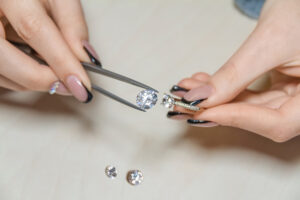 There are different types of diamond ring settings and the channel setting is one among them. In this setting, diamonds, which are comparatively small than the center diamond, are set inside a channel. Small lips are provided on most of the channels to keep the diamonds secure. Moreover, some channels have grooves in them for the perfect seating of the small diamonds. The girdles of the diamonds are protected by the metal channel hence exposure of the diamonds is very less. Less exposure means less chance of damage.
Both natural and lab-grown diamonds can be used in this setting. You can also use other gemstones like ruby and sapphire in this setting.
The channel setting has a resemblance to pave setting, but both are different. Unlike pave setting, the channel setting doesn't have metal prongs to hold the gemstones. Due to the absence of prongs, snagging of prongs is not a problem with channel cut rings. Channel cut settings are provided in engagement rings as they provide the ring with an elegant appearance and brilliance. Rings with no center diamond and channels running all around them are also available in the market. You can use diamonds with any shape in the channel, but keep in mind that using square-shaped diamonds like baguettes is better.
Like all ring settings, channel setting also has their advantages and disadvantages. Let's look at them below.
Advantages Of Channel Setting
A channel setting provides good protection to the diamonds in the channel. The girdles of a diamond are most prone to chipping and the girdles are protected in this setting.
The overall appearance of the ring is enhanced by the channel setting. Even though your center diamond is a little off, the channel setting covers it.
Snagging the diamond in clothes is not an issue in the case of a channel setting. Hence you can use a channel set ring daily without the fear of damage.
Disadvantages Of Channel Setting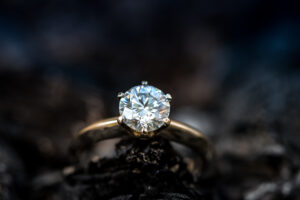 Dirt is the biggest problem you will face with a channel set ring. Dirt can easily accumulate in the grooves and it is very hard to reach in between the diamonds. Also, the diamonds in the channel get less light hence the sparkle may be less.
Engagement rings with channel settings are hard to resize. So it is important to give the correct measurements.