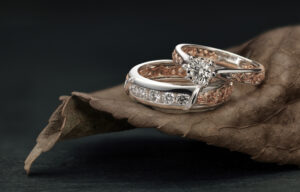 Diamonds are the best way to express your love when proposing to your loved one. However, these stones can be very expensive, hence, engagement rings with diamonds can be way beyond your budget. However, it does not mean that you cannot afford a diamond engagement ring if you are on a budget. We list some tips that can be helpful for you to get beautiful diamond rings without stepping over your budget.
Choose The Right Diamond Shape
Diamonds come in different shapes and their prices can greatly vary. If the shape of a diamond is not an important constraint for you, then it is possible to save a huge amount on your engagement ring by choosing an affordable option. Round brilliants are the most expensive diamond shapes. Other diamond shapes are affordable than this popular diamond shape. Diamonds that come with cushion cut, Asscher cut, and oval cut can be greatly affordable than round diamonds.
You can ask your jeweler about different diamond shapes that can make your engagement ring more affordable.
Clarity Is Important
Diamonds with no visible imperfections are extremely expensive. Therefore, compromising on this important quality parameter canhelp you to save a significant sum on your ring. Diamonds with no visible inclusions are given the grades Internally Flawless (IF) and Flawless (FL). Stones that come with slight amounts of inclusions are given the grade Slightly Included (SI). These diamonds can be affordable than IF and FL diamonds.
In some cases, even if the diamonds come with inclusions, it will be possible for you to hide them using the setting of your ring. Choosing such diamonds can help you to save a great amount on your ring without compromising on its appeal.
Choose Artificial Diamonds
Synthetic, artificial, or lab-grown diamonds can be a wonderful alternative to natural diamonds, as they are available at highly affordable rates. As there are no differences in the appearance of natural and artificial diamonds, no one can tell them apart. So you can get high-quality diamonds for more affordable rates by choosing synthetic diamonds.
Get A Smaller Diamond
Diamonds with smaller carat weights are less expensive, as their price per carat will be lower than diamonds with higher carat weights. You can get a wide variety of stunning engagement rings that come with small diamonds. They can be helpful for you to get beautiful engagement rings for more affordable rates.
Also, if you are on a budget, then it is better to get gold instead of platinum, as gold is less expensive than the latter. Even though silver is more affordable than both of these options, it can get damaged easily. Hence, it might not be suitable for engagement rings.