When choosing a diamond earring, it is important to consider the type of diamond you are purchasing. Certified diamonds are generally considered to be of higher quality and worth more than non-certified diamonds. Stud earrings are a popular choice, as they can be found in a variety of sizes and shapes. Earring studs typically feature either round or princess-cut diamonds. If you're looking for something unique, consider yellow diamonds which offer a unique look and color compared to traditional white stones.
When shopping for certified diamonds, you need to compare the certification cost with the price tag of each stone. The certification will detail the clarity grade and carat weight, helping you make an informed decision about which stone offers better value for money. Generally speaking, higher clarity stones will have a higher price tag but should also provide better value in the long run due to their superior quality.
When choosing diamond stud earrings, the important thing to keep in mind is the combined carat weight of both diamonds. This will provide a better indication of their total carat weight than looking at each individual stone. Additionally, it's important to look for diamonds with a good color grade and clarity scale as these are quality indicators that ensure you're getting the best value for your money. Finally, be sure to consider the type of metal you'd like your studs set in – gold or white metal such as platinum or palladium are great choices when pairing with diamonds.
White gold metal is a popular choice for diamond earrings and will provide the best contrast to colorless diamonds. When shopping for round brilliant diamond studs, be sure to consider the grades of the diamonds, such as carat weight, cut grade and color grade. Look for excellent or very good cut grades and colorless diamonds to ensure that your studs sparkle brilliantly in any light.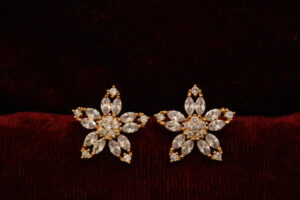 Melee diamonds are smaller stones that are often used as accents around a larger center stone or as edging along with a classic four-prong setting. Colored metals can also look beautiful when paired with colored gemstones like sapphires or rubies – just make sure you choose one that will work well with the precious metal you select!
When shopping for diamond earrings, start by deciding on the carat weight you'd like. A higher carat weight will generally cost more than a smaller one, so consider your budget and final price point when making this decision.