People have many doubts about using artificial diamonds, and health concerns are one among them. Below we bust some of the popular myths about lab grown diamond earrings.
Myth: Allergies And Skin Irritation
One of the claims surrounding lab grown diamond earrings is that they can cause allergies and skin irritation. However, this is a misconception. Lab grown diamonds are made of pure carbon and do not contain any additional materials that could trigger allergies. The skin irritation experienced by some individuals is more likely a reaction to the metal used in the earring setting rather than the diamond itself. It is important to note that individuals with metal sensitivities should choose hypoallergenic earring settings, regardless of whether the diamonds are natural or lab grown.
Reality: Potential Presence Of Metals
While lab grown diamonds themselves do not pose a health risk, there is a possibility of trace amounts of metals being present in the diamond growth process. The use of metal catalysts during the creation of lab grown diamonds can result in the incorporation of small amounts of these metals into the diamond's structure. However, it is crucial to emphasize that these trace elements are typically found in such minuscule quantities that they are unlikely to cause any adverse health effects.
Myth: Radioactivity
Another misconception is that lab grown diamonds are radioactive and can emit harmful radiation. This claim is entirely false. Lab grown diamonds, like natural diamonds, are composed of carbon atoms and do not possess any radioactive properties. The diamond growth process does not involve exposure to radioactive elements or radiation sources. Therefore, lab grown diamond earrings are completely safe to wear and do not pose any risk of radiation exposure.
Reality: General Earring Safety Precautions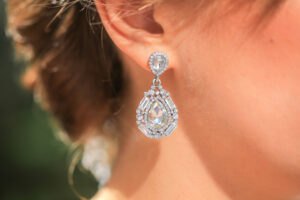 When it comes to wearing any type of earrings, including lab grown diamond earrings, there are general safety precautions to consider. Additionally, practicing proper hygiene by regularly cleaning the earrings and ensuring a secure fit can help prevent discomfort and potential infections. If any signs of irritation or allergic reactions occur, it is advisable to consult a dermatologist or switch to a different earring material or setting.
The claims surrounding potential health problems of wearing lab grown diamond earrings are largely unfounded. While there may be trace elements of metals present, the quantities are negligible and unlikely to cause any harm. Lab grown diamonds themselves do not pose any risks, such as allergies or radiation exposure. As with any type of earrings, following general safety precautions and maintaining good hygiene practices are essential for overall ear health. When choosing lab grown diamond earrings, consumers can enjoy their beauty, sustainability, and affordability with peace of mind, knowing that they are safe to wear.