It is very essential to understand the grading reports of a diamond before you purchase it. Diamond grading reports are the documents that provide details about the quality of the diamond, though not all reports are trustworthy. When you are planning to buy diamond rings or diamond jewelry, make sure that you read the diamond certificate first.
In this article, we will answer some of the frequently asked questions about diamond certification and offer some information about various gemological labs.
Why Is Diamond Certificate Important?
The grading report on a diamond is similar to its identification card. Cutting angles, clarity flaws, and girdle inscription are all used by gemologists to verify the identity of a diamond. Also, the report will also tell you whether you are purchasing a lab-grown diamond or a natural diamond. it will also tell you whether it is made using laser drilling treatment and the HPHT method. You will get a decent idea of what it really costs depending on that and the diamond's light performance.
What Is Overgrading?
When comparing diamond grading services from multiple gem labs, think about how each one determines the grade and whether they would grade diamonds more appropriately than the most reputable labs, the GIA and AGS. Certain labs may overestimate the color or clarity of a diamond by one color or clarity grade. This diamond may appear to be a bargain when compared to others. You'll be able to compare prices more fairly if you understand how different labs allocate grades to the 4 Cs. Keep in mind that diamonds aren't "good deals." However, "fair deals" with reasonable prices do exist.
Is Buying Diamonds Without Grading Report A Good idea?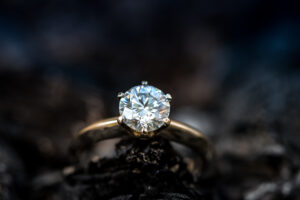 You might be paying extra for your diamond jewelry without a grading report. Worse, the diamond may have been lab-created or treated, lowering its value. The color and clarity grade of the diamond is often different from what is marketed. Finally, no one trying to sell a genuine diamond should object to the grading process. Before you buy it, please ask if you can send it to the lab. If the diamond is valued at more than $1,000, laboratory grading is a good investment.
Which Diamond Certificate Is The Best?
The GIA and AGS grading reports are the most reliable in the market due to their consistency. Go with diamonds that are graded from these labs if you're concerned about overpaying. Some individuals assume that a GIA report is the only way to go. Other gemological labs, on the other hand, can also grade diamonds.