There is no doubt that buying a natural diamond or a lab-grown diamond is a huge investment. That means, when you buy diamond jewelry, lab-grown or natural, you would want it to last forever. However, several circumstances can wreak havoc on your diamonds and diminish their brilliance. It is very important for you to find ways to store your lab-grown diamond rings or lab-grown diamond earrings safely to avoid damage.
In this article, we will discuss different types of damages that diamonds and diamond jewelry suffer from, as well as how to protect your valuable gemstones from them.
Damage Caused By Water
Natural metals like gold, silver, and platinum are used to create beautiful ornaments. To manufacture such beautiful items, they have to go through a lot of trouble. They lose their ability to endure continued exposure to water as a result of these processes. Exposing your valuable gemstones to water can cause staining of your prized possessions. If you have a diamond in your ring, it is recommended that you remove it while doing activities that require your hands, such as swimming, cleaning, bathing, or dishwashing.
Damage Caused By Sun And Heat
Although diamonds are one of the hardest substances on earth, exposing them to sunlight directly can cause discoloration and dullness. The texture of the diamond might also be damaged by ultraviolet rays of sunlight. In addition, extreme heat might cause your valuable jewels to change their hue. As a result, it is recommended that you keep them in a cool environment.
Damage Caused By Chemicals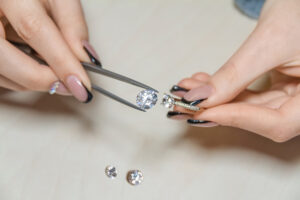 Natural substances react to chemicals, which can damage your valuable jewelry. As a result, it's critical to keep your jewelry away from chemicals. Chlorine, detergents, bleaches, and other harsh chemicals have an adverse effect on your jewelry, producing discoloration and deterioration, which can quickly ruin your expensive and valuable jewelry. Pearls have a lustrous shine that is easily ruined by these substances. As a result, it's a good idea to take off your pricey jewelry before doing home tasks, and other tasks involving chemicals.
Damage Caused Physically
Lab-grown diamond rings that you wear on a daily basis are likely to be physically damaged if you are involved in an accident. If you spend a lot of time outside, your jewelry is likely to be dented or scratched. To reduce the chance of damage, remove your jewelry before going to work and put it back on when you've finished.