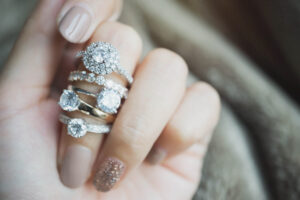 There is a wide range of ring settings that can be helpful for you to show off your diamonds in a brilliant way. Some of these options include prong, solitaire, halo, pave, and channel settings. Another wonderful choice that can help you exhibit your stones without the metal of the band interfering with its visibility is invisible settings. This stunning ring setting can offer a great visual impact, as it showcases the stone in a brilliant way.
The invisible setting is one of the popular options used among engagement rings. If you are wondering whether this ring setting can be right for you, read along to know more about it.
Invisible Setting
In the invisible setting, the metal that holds the stone in place will not be visible. Your stones will look like they are virtually floating on the band. You won't see any prongs or bezels holding the diamond. Instead, this setting holds stones using a small groove cut into their base. The result offers an uninterrupted surface of gemstones.
The invisible settings are commonly used for princess, emerald, and other square diamond cuts. It is usually not used for round diamonds. In an invisible-set ring, the square-shaped diamonds will be arranged in a row with the flat sides of these stones set next to each other.
Pros Of Invisible Setting
It creates a great way to show off your diamonds. As there are no prongs or other structures to hinder the visibility of the stone, the entire top surface of your stone will be visible.
This setting can enhance the look of smaller diamonds. As an invisible-set ring will contain small diamonds arranged next to each other, they can be less costly than ring settings that demand bigger diamonds. You can also get lab grown diamonds for your invisible-set ring so that it will be far more affordable.
The invisible setting can be a unique option when compared to other common ring settings like prong and bezel.
Cons Of Invisible Setting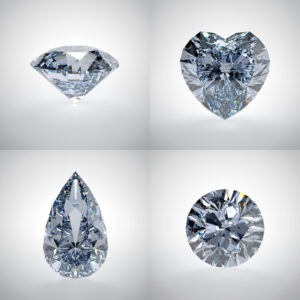 Even though this setting can offer an uninterrupted view of diamonds, it does not offer a great sparkle because of how the stones are set. So if you want great sparkle for your ring, it is better to opt for other settings like a prong setting.
This ring can be costly, as more effort is required to prepare the stones and the structure that holds them.
The invisible setting can be a bit more complex than other ring settings. So you have to get the help of an expert to check this ring occasionally to make sure that the stones are not loose.