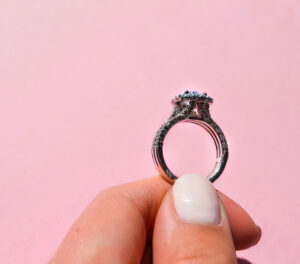 Choosing an engagement ring setting that suits you the best can be a confusing task. But if you are aware of the pros and cons of different settings used in engagement rings, then it can be easy for you to make an informed decision.
Solitaire and halo settings are two of the popular options in engagement rings and they create a stunning option for people who like to go with traditional designs. Both of these choices have their own specific features. Therefore, we provide some of the important information you want to know about these wonderful engagement ring settings.
Solitaire Rings
With its simplicity and minimalistic appeal, a solitaire engagement ring attracts a lot of people. If you are not a fan of delicate designs and additional embellishments, then it is better to go for a solitaire engagement ring. It is a timeless design that has been the favorite of people for generations.
As the sole focus will be given to the center stone in a solitaire ring, it can be a stunning choice to show off your big diamond. A solitaire ring usually holds the stone using prongs that can offer better visibility for it. This can also increase the brilliance and sparkle of the stone, thereby making your ring shiny.
Pros Of A Solitaire Ring:
This ring design will never go out of fashion.
There are no additional stones or designs to steal away the attention from your center stone.
It creates a versatile choice to match with other wedding bands and rings.
Cleaning is much easier and quicker.
Cons Of Solitaire Rings:
The ring usually has a high setting that can increase the risk of snagging on everyday objects.
Getting bigger diamonds can be expensive unless you get lab grown diamonds or diamond simulants.
Less protection for the center stone.
The girdle of the diamond can be exposed, which makes it vulnerable to damage.
Halo Rings
With small diamonds encircling the center stone, the halo setting creates a shiny engagement ring. The halo effect can make your center stone look bigger and shiny than it really is.
Pros Of Halo Rings: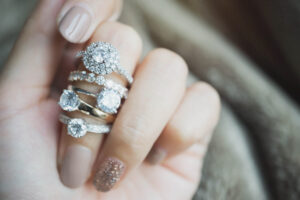 Center stone can look bigger than its size thereby allowing you to go for smaller stones.
Offer better protection for the center stone.
Can be suitable for all diamond shapes.
Cons Of Halo Rings:
It can take longer to clean the ring because of the large number of smaller stones involved.
As there are many crevices, the chance for dirt to get trapped is more.
Too shiny for some people.
Therefore, make sure that you are aware of the positive and negative things associated with each ring setting before selecting an option for you.