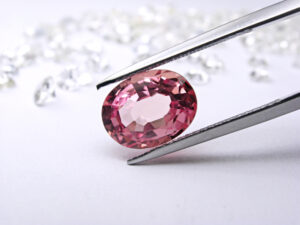 A diamond takes 1 – 3.3 billion years to form in nature; the alchemy begins when carbon atoms kilometers beneath the Earth's crust begin to crystalize due to extreme heat and pressure deep within the earth. Diamonds are expensive because of the time-consuming process and the number of workers required to mine them, but technological advances have resulted in a more cost-effective method of producing the precious stone.
Natural diamonds take twice as long to form as lab-grown diamonds, resulting in cheaper costs.For their engagement rings and other items of jewelry, many people nowadays prefer diamonds created in a lab.
Why Are Lab-Grown Diamonds Cheaper?
A lab-grown diamond is a true, authentic diamond that is created above ground by scientists replicating nature's method. The properties of a lab-grown diamond are the same as those of a natural diamond. Because a lab-grown diamond comes into contact with fewer people than a mined diamond, it is a more cost-effective option. In addition, it is an eco-friendly option, when compared to the mining of natural diamonds.
Lab-grown diamonds are created in the same way that natural diamonds are but without the same ethical and environmental implications. In the lab, advanced technologies are utilized to simulate what happens beneath the Earth's crust. The process takes 6 to 10 weeks and yields diamonds that can be cut and polished before being evaluated and certified by the same gem labs that certify genuine diamonds.
Comparing Natural And Lab-Grown Diamonds In Terms Of Composition And Appearance
Lab-grown diamonds are identical to natural diamonds in terms of chemical and physical features, but they pose no ethical or environmental problems. The IGI certification and inspection process are the same for both mined and lab-grown diamonds, and it involves grading for 4Cs.
Benefits Of Buying Lab-Grown Diamonds Online
The modern shopper does his or her shopping online. Our consumer interactions would be limited if we started with brick and mortar when we can now access them instantly digitally. The bulk of online diamond retailers provide services that aren't available in brick-and-mortar locations. They take away the fear of the jewelry counter while offering unrivaled customization in lab-grown diamonds and unique engagement ring designs. In addition to that, most online stores offer discounts that bring down the price of lab diamonds even further.