With everything available online these days, we rarely need to leave the comfort of our homes to do anything. The same is true when it comes to measuring your ring size before ordering diamond rings online. Of course, you may go to a jeweler, but that will not go well with the do-it-all from your couch thing. If you are planning to buy diamond engagement rings online, you need to understand the proper fit of the ring. A ring with the proper size should fit the finger comfortably and should be snug enough so that it will not fall off easily. But, the ring should be loose enough to slide over the knuckle with a little bit of resistance.
US Ring Size
The ring sizes in the country follow a scale of numbers ranging from 3 to 13.5 for adults. Men's rings will usually measure between 8 and 14 and women's rings between 3 and 9. The average US diamond ring size for women is between 5 and 7. However, it is always recommended to get an exact ring size before going diamond ring shopping and spending a lot of money on the ring, as some of the diamond ring settings can make it really difficult to resize the ring.
Best Practices To Find Ring Size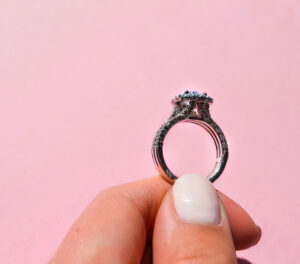 Before trying to measure your ring size, you need to keep the following things in mind.
Consider Your Knuckle: if your knuckles are large, you need to order half a size bigger than what is indicated by your finger alone. Else, you won't be able to properly slide the ring into your finger.
Ensure Accuracy With Many Tries: Experts recommend measuring your finger many times as the size might vary with temperature differences. Your fingers can be smaller when you are cold, and swollen when you are in hot temperatures.
To ensure the most accurate diamond ring size measurement, you may need to purchase a ring size measurement tool. These tools are not very expensive and you can buy them online, meaning that you need not leave your house to measure your ring size. Measuring tools are available in the form of a keyring that is lined with different ring sizes or a thin measuring tape. You can keep these tools handy and use them while shopping for rings or can also use them for measuring the ring size of other members of your family.