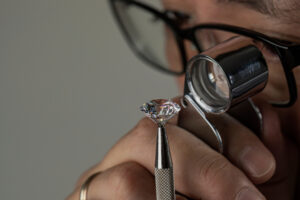 A lot of people ditch diamonds for their engagement rings because of their higher price ranges and problems associated with their mining. If you want to avoid diamonds and opt for something else, then there is a wide variety of options available for you. Some of the best alternatives to natural diamonds are listed below:
Lab Grown Diamonds
They create the perfect option for people who want more affordable and ethical alternatives to natural diamonds. Because of their synthetic origin, lab-grown diamonds are free of the problems associated with the mining of diamonds. Additionally, as these stones can be produced based on demand, they are not rare like natural diamonds. Hence, these stones are less expensive than natural ones.
In addition to natural and lab grown diamonds, there is a wide variety of other gemstones that you can include in your engagement rings. Some of them are:
Moissanite
This gemstone is also known as a diamond simulant because of its similarity to diamonds in terms of appearance. As it is very cheaper than diamonds, this gemstone creates a wonderful option for people who want engagement rings that have the look of diamonds but for less expensive price ranges.
Moissanite stones are also very durable with a score of 9.5 on the Mohs scale. Hence, they can withstand chips and scratches to a great extent just like diamonds. Moissanite creates a rainbow flash that a lot of people adore this stone for.
Sapphires
Sapphires are available in different colors. If you want the look of diamonds for your ring, then it is better to get colorless sapphires. Additionally, this gemstone comes in a wide variety of colors including blue, yellow, pink, etc. With a durability score of 9, sapphires create a great option for everyday wear. Sapphires are also very affordable than natural diamonds.
Cubic Zirconia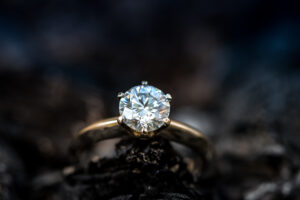 This is another popular diamond simulant commonly used in engagement rings. Cubic zirconia stones you find in jewelry are man-made which makes them an ethical option. But these stones are not brilliant like diamonds. The durability of cubic zirconia is lower than the gemstones listed above. Its score on the Mohs scale is 8.5. But it can be an affordable option for people who want to fake the look of diamonds for their engagement rings.
Some other gemstones you can consider include aquamarines, morganites, emeralds, rubies, and amethysts. All these stones can be a stunning and low-cost alternative to diamonds. So you can choose an option based on your preferences and budget.