Diamond rings featuring beautiful baguette diamonds have a special vintage feel to them. Baguette diamonds set in beautiful designs of exquisite pieces of jewellery can have an unmatched aesthetic appeal. Let us take a look at some of the interesting factors to consider while making a baguette diamond purchase.
Assessing The Quality Of The Diamond
Baguette stones have lesser number of facets when compared to the brilliant round cut or emerald cut, resulting in lesser shine and sparkle. This makes the inclusions and flaws in the stone more visible when compared to the other cuts. This essentially means that when purchasing a baguette diamond, especially big ones to be used as center stones, you need to ensure that they are as flawless as possible, with the least amount of inclusions. Such a baguette stone is bound to have a unique appearance, in spite of the lesser sparkle.
The Affordability Of Baguette Diamonds
Baguette diamond rings and other jewellery set with baguette diamonds are less expensive when compared to the ones set with more popular cuts like the brilliant round, emerald or princess cut. This makes baguette diamond jewellery an affordable buy with a unique classy appeal. However, it is worth mentioning that just like any other diamond, the cost of baguette stones will also increase proportionally with their color, clarity and carat.
The Wearability Of Baguette Diamonds
The shape of baguette diamonds is bound to expose the diamond to more damage when compared to the other cuts. The long rectangular shape of the stone necessitates special settings that offer maximum protection to the stone from chipping and other damages from wear and tear. Carefully set baguette diamonds in great designs can withstand the test of time and last many lifetimes with proper care.
Caring for your baguette diamonds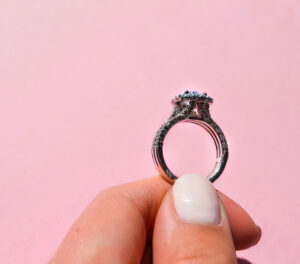 Baguette diamonds do not require any special care when compared to the other diamonds, except in the setting. An ideal setting would keep the corners of the diamond safe from damage. Choosing the best protective setting for the stone can be your first and most important step towards ensuring that the stone remains safe. Rest of the care can comprise of the usual cleaning routine that involves using soap and water or a good grade jewellery cleaner to keep the stone clean and shiny.
Baguette stones are a great choice for those who prefer to have unique designs in their jewellery featuring elegant settings. They are an affordable and classy choice for those looking for a value addition to their diamond jewellery collection.