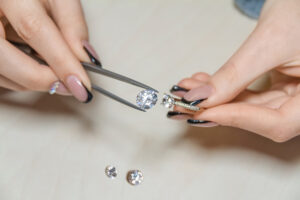 Have you ever heard of "artificial diamonds"? Do you know what it means, in case you have heard about it? As technology becomes more advanced, it is now possible to create a diamond in a laboratory setting. These diamonds are known by the names artificial diamonds, laboratory diamonds, or synthetic diamonds. This article is intended to shed some light on the topic of laboratory diamonds as an alternative to natural diamonds and why natural diamonds possess a dark side.
Natural Diamonds
It takes approximately 1 billion to 3.3 billion years for the formation of a diamond, the hardest and most precious stone on the planet. This time can be reduced by 6 to 10 weeks in a laboratory setting. The diamonds that are naturally formed stay deep inside the earth and require mining to take them out and further processing to beautify them into the ornaments we wear. This mining is one of the most complicated and controversial processes involved in the production of diamonds. Do you know why this is the case? A lot of media have reported various human rights violations and child abuses associated with this process.
There are reported instances of beating, torture, and even murder in the diamond mining fields. Even though diamonds are well known as a symbol of love and luxury, the processes involved in their production are absolutely the opposite. In addition to the human rights abuses, the ecological destruction caused as a result of diamond mining is also not a good story. Huge areas of land must be excavated for this mining, which will make them completely unusable after mining. Apart from this, the sound and air pollution as a result of mining machines is also a point of concern for many environmental activists. It is possible to get rid of this process if the complete reliance on diamonds is changed from natural to artificial.
Lab-Grown Diamonds
As stated earlier, they can be created in a laboratory setting with appropriate chemicals. Compared to the natural diamond mining process, the number of employees required for the creation of synthetic diamonds is far less. This not only reduces the chances of human rights violations but also reduces the cost of production. People who are looking forward to buying a cost-effective and environmentally friendly diamond can definitely consider this as their choice.