Many are interested to get a good-looking pear-shaped diamond for their engagement ring, but the major factor hindering their wish is the difficulty to find a good pear-shaped diamond. You may be thinking that you can buy a teardrop diamond just by looking at the diamond certificates. You are absolutely right if you are buying a round cut or a princess cut, but it is not a feasible solution for buying a teardrop diamond.
In this article, we are discussing the things you have to look for before selecting a teardrop diamond for your diamond ring.
When you start to look for pear-shaped diamonds, you can see that most of the diamonds you see are short and stubby or highly elongated.  Let us look at the length-to-width ratio of a pear-shaped diamond and what to look out for.
Length-To-Width Ratio
The most common reason for a pear-shaped diamond to look out of shape is the imbalance in length to width ratio or L/W ratio. You have to select a pear-shaped diamond with an L/W ratio between 1.55 and 1.75 to have the best appearance for your diamond ring.
 L/W ratio lesser than 1.55 will make your diamond look stubby and short for a teardrop shape. If the L/W ratio is more than 1.75, the diamond will seem like an elongated teardrop and you may not find it a pleasing look.
Beware Of Straight And Curvy Pear Shapes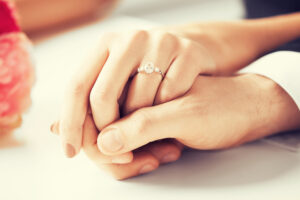 The L/W ratio is a value you can calculate using the length and width measurements provided in the diamond certificate. Keep in mind that the L/W ratio is not the only factor that you should look for in a teardrop diamond. You have to look and confirm whether the silhouette of the diamond is acceptable to you or not. You should also verify that the diamond is symmetric along the axis joining the center and the pointed edge of the diamond. Inspection is key in selecting a pear-shaped diamond. If you do not inspect the pear-shaped diamond carefully before buying, you will definitely regret it later.
Look For Bow Ties
This is one of the major problems related to pear-shaped diamonds. A bow tie refers to a black pattern you see on the center of the diamond. Look for a pear-shaped diamond that does not exhibit a significant bow tie effect or else it can affect the ring's beauty.