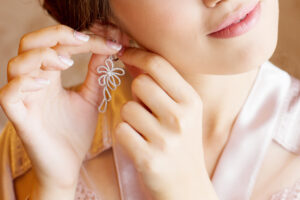 Is it comfortable to wear diamond earrings? It is a frequent question that many people have. This article will examine whether wearing diamond earrings is comfortable as well as how to pick the best style for you.
Comfort Of Diamond Earrings
While some diamond earring styles are made to be light and comfortable to wear, others are more solid and may need some adjusting. The ease of wearing the earrings can vary depending on their size, form, and setting. The best way to choose diamond earrings is to put them on and assess how they feel. Any dragging, tugging, or pinching feelings should be noted. If the earrings are too big or weighty, they might eventually hurt or make you uncomfortable. Furthermore, if the earrings are not correctly fastened, they could slip or come off, causing additional pain or even losing the earrings.
The Right Style
Diamond earrings come in a wide variety of designs, each with special advantages and features. Here are a few well-liked choices to think about:
Stud Earrings: Stud earrings are a timeless and adaptable style that can be dressed up for formal events or worn every day. As they rest close to the earlobe and do not dangle or move around, they are typically lightweight and comfortable to wear.
Hoop Earrings: Hoop earrings are a classic design that comes in a variety of sizes, from tiny and delicate to big and striking. If they are the proper weight and size for your ears, they are pleasant to wear. Look for hoops that are not too heavy or thick, and consider opting for hinged or lever-back closures for added security.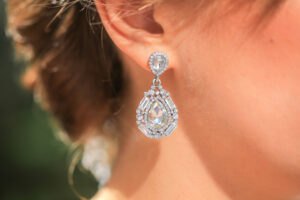 Drop Earrings: Earrings with single or multiple diamonds that hang from a hook or post are called drop earrings. Although they might be stylish and eye-catching, they might also be bulkier and more difficult to wear. If you favor drop earrings, look for designs that are balanced, light, and have a safe and cozy backing.
Climber Earrings: These contemporary and fashionable earrings "climb" up the eardrum or cartilage. If they are the proper height and shape for your ears, they may be comfortable to wear. Look for climbers that are not too long or heavy, and for additional ease, think about choosing a curved or adjustable design.
In addition to paying attention to the earrings' design, it's critical to select fine diamonds and long-lasting settings. Choose settings that are crafted from premium metals and have safe clasps or backs. Look for diamonds that have been verified by an accredited agency, such as the Gemological Institute of America (GIA).