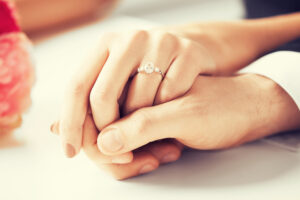 The addition of side stones to your diamond engagement rings can help to enhance the appearance of the central diamond. They can make your ring appear bigger, giving it a more striking appearance. The side diamonds you should select for your engagement ring are determined by the main diamond, the type of setting, and other factors. We've put together a handy guide to help you pick the ideal side diamonds for your engagement ring.
What Is The Best Number Of Side Stones To Choose?
One of the most prevalent settings for engagement rings is the three-stone setting. You should get two accent diamonds and one center diamond if you are selecting an engagement ring with a three-stone setting. The five-stone setting, which requires 4 sides diamonds and one center diamond, is another common option. There are also a variety of different arrangements with a larger number of side diamonds.
However, keep in mind that as the number of diamonds increases, maintaining and cleaning the ring becomes more difficult. If you can't afford a large center stone diamond engagement ring, a ring with side diamonds is a better option. Small side diamonds are less expensive than larger diamonds, so they can help to enhance the size of your engagement ring at an inexpensive price.
Consider The Size Of Side Stones
It's crucial to keep in mind the proportions of your ring while selecting side stones. Many individuals favor side diamonds that are roughly the same size as the center stone. If you select an engagement ring with two side stones, this can be a terrific alternative. When there are more than two side diamonds, however, it is preferable to choose stones that are much smaller than the center stone.
Choose The Right Color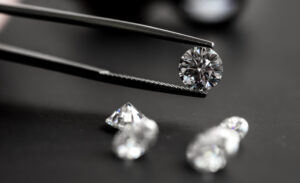 The side diamonds' color grade should be similar to your main diamond's color grade. If your center diamond is colorless but your side diamonds are yellow-tinged, your ring's overall attractiveness will suffer.
Consider The Unusual
Since your center diamond is colorless, you don't have to go with colorless side diamonds. To create a remarkable contrast between your rings, try experimenting with bright colors. If you desire a diamond engagement ring with side diamonds but can't afford one, lab-grown diamonds are a cheaper route. These diamonds are very popular and available at a fraction of the cost of real diamonds.