Buying wedding rings is always a difficult task if you don't know what you are doing. Choosing the right diamond or the right setting always needs proper research and many couples do not bother to do that. This can lead to several mistakes when shopping for diamond rings for your wedding. These mistakes can lead to a loss of money and time. In order to avoid that, you should do proper research on various aspects of diamonds and wedding rings.
In this article, we look at some of the avoidable mistakes that couples usually make during wedding ring shopping.
Looking For Matching Rings
Some couples choose matching rings, while others prefer contrasting styles. If you want a sense of coherence or continuity between your rings, consider complementary rings, which have a similar design but are made of different metals. Other couples enjoy varied metal bands; if one partner favors rose gold, the other can match their partner's preference with a rose gold interior. The main conclusion is that there are a variety of techniques to make wedding rings appear joined without having to match.
Getting The Wrong Size
Resizing rings just before or after your wedding is inconvenient. Knowing both parties' ring sizes at the outset will help you prevent unnecessary tension. Although you may easily verify your ring size at a jeweler, some online stores will send you a measuring tool before you place your order.
Mixing Metal Densities
Metals age in various ways over time. As a result, make sure the metals in your wedding rings are the same weight. Consider a platinum wedding ring if your engagement ring is platinum. Pick a yellow gold or rose gold band if your ring is gold. This method ensures that the rings retain their appearance throughout time.
Always Selecting Natural Diamonds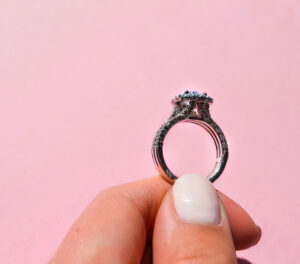 You should note that there is nothing wrong with picking a natural diamond for your wedding rings. However, the thing you need to remember is that all natural diamonds are not ethical, some are blood diamonds. Diamond mining in some parts of Africa is controlled by rebel groups. That is why many people are now buying only lab-grown diamonds for their wedding rings. They are ethical diamonds and identical to natural diamonds in every way.
Not Picking The Right Ring Setting
When purchasing a wedding ring, you should give careful consideration to the ring setting. You may not notice it, but the setting is quite important to many women. People frequently tell their friends and relatives about their dream engagement ring, so you might be able to learn something useful from them.